You've been building homes in the greater Houston area for over 30 years. When did you know that you wanted to dedicate your life to this work?
I was always mechanically inclined and was forever building all kinds of things. As a child I was constantly designing floor plans. After graduating from high school, I started subcontracting – framing, decking, and cornice work. Once I finished my college studies I became a construction superintendent and shortly thereafter started my custom home building company in 1978.
---
You've run a successful company in a competitive market, what sets J.L. Bass Building apart from other custom homebuilders in Houston?
The label "builder" is used quite loosely by many. Unlike the architectural industry that requires and education and an internship to be licensed, anyone can call themselves a Builder. I endeavored to learn the construction business from a quality builder long before we ever had a national housing goal. While being a sound businessman is a component of running a successful building company, practical knowledge of sound building practices or construction techniques is essential to creating a quality product. I have personally worked in most of the construction trades that are used in the building of a new home.
---
It sounds like you bring your personal experience to the table for every project, and take a very hands on approach to the construction process.
I have never been comfortable, and do not leave, the construction knowledge of each phase of the project completely in the hands of the subcontractors.
---
What would you tell prospective clients to look for when selecting a homebuilder?
Many in our industry are little more than expeditors, or schedulers – sometimes with the inability to even do a basic takeoff of materials required. Time and experience are crucial requirements that a homeowner should look for in their builder. Continuing education along with all of the above detailed knowledge that comes from having done the work are considerable assets.
---
You and your team make a personal commitment to projects that can take months or years to complete.  At the end of the project, what is your greatest reward?
For most of us, our greatest investment is our home. I consider it an honor each time we are selected to build someone's dream.  We are a hybrid industry where we provide both a service and a final product for our clients. Our greatest reward is knowing that our homes are built to the best of our ability, and that the homeowner appreciates our efforts and the end result.
---
What trends do you see coming in the years ahead?
For decades the energy consumption of homes expanded. The efficiency of our current homes is changing rapidly and will continue to do so in the near future. This change is even greater than what is happening in the auto industry, going from gas to electric! I think that homes of the future will begin to generate and store their own energy.
---
Read more about the Bass Building process and how they can partner with you to bring your new home to life.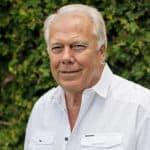 John Bass, a native Houstonian, and graduate of University of Houston, is principal of J.L. Bass Building, Inc. and has been building custom homes for over 30 years in Houston, Texas. John is a Graduate Master Builder and a member of the Remodeler's Council and the GHBA.